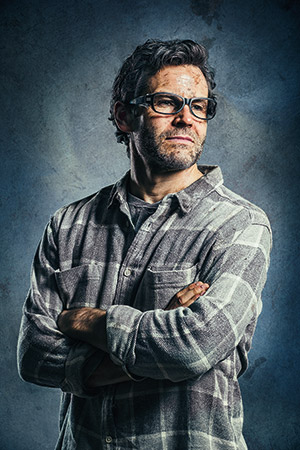 In a significant industry move, Specsavers Corporate Eyecare is delighted to today announce the launch of its new range of JCB prescription safety eyewear.
With both companies being globally recognised, and family owned, it is a fitting partnership. JCB's brand is synonymous with quality, safety and durability; and these attributes are reflected in Specsavers Corporate Eyecare's new range of JCB prescription safety eyewear. 
A total of 20 JCB frames are being made available, offering a huge variety of options, from diverse designs and styles, to greater colour combinations, and different frame sizes, in men's, women's and unisex designs.
The frames are available in metal and polycarbonate, with a wide choice of lens materials, depending on the requirements of the specific work activity, and so are suitable for a large range of industrial settings. Each lens has undergone a variety of safety tests and the frames all have side shields, which include the JCB brand.
Jim Lythgow, director of strategic alliances at Specsavers Corporate Eyecare, said: 'We have subjected more than 440 pairs of prescription safety glasses to extremely rigorous tests. As you would expect from Specsavers and JCB – these glasses are tough! We are also really pleased with the aesthetics of the range. Our research has always shown that style and comfort are really important in safety eyewear. The new JCB range offers a great choice of colours and designs, from chunky, wraparound-style glasses, to more sleek and minimalist options, in everything from the distinctive black and yellow of JCB, to metallic blue and satin silver. Larger frames and comfort temple tips ensure everyone will find a solution that is comfortable and fit for purpose."
Paul Tudor, senior licensing manager for JCB, commented: 'We are very excited about this new partnership. Health, safety and wellbeing has always been a vital part of the JCB philosophy. This extensive range of fashionable, high-quality, tough prescription safety eyewear is a perfect fit with our brand values. Specsavers is the perfect partner, like JCB, it is market leading, family owned and globally recognised'
Safety standards
All manufacturers of safety eyewear are required to have their products independently tested against a European standard. The EN166 demonstrates that all JCB safety eyewear frames have been assessed in a series of independent tests. Conforming to EN166, Specsavers Corporate Eyecare has also acquired a BSI Kitemark certification for the full JCB range.
Availability and costs
The 20 new JCB frames are available from today through the Specsavers Corporate Eyecare eVoucher scheme. Employers and safety managers can buy safety eyewear eVouchers online at www.specavers.co.uk/corporate
eVouchers are available from a minimum of just five and there is no contract or tie-in. There has been no cost increase for the JCB range. A safety eyewear eVoucher costing just £36.81 entitles the employee to one complete pair of prescription safety glasses, fitted with standard single vision lenses, which include a scratch-resistant treatment. Additional vouchers are also available for lens options, which include bifocals, varifocals, polycarbonate lenses, clip-on UV tints, tints, toughened glass, anti-reflection treatment, UV treatment, reaction lenses and ultra-clear treatment. 
Employees can obtain safety eyewear from any of Specsavers' 785 stores, nationwide, across the UK and Ireland. JCB prescription safety glasses are made in-house by Specsavers Corporate Eyecare and are, therefore, subject to the same stringent quality control as all Specsavers' glasses. All JCB eyewear is provided in a branded JCB frame case with a lens cloth.
For more information, visit https://www.specsavers.co.uk/corporate/safety-eyewear/jcb-glasses