About this offer
Thin + Light lenses have the perfect name – they are made from a special high index material that means your lenses can be thinner and lighter, which is great for high prescriptions.
Not only do extra thin lenses improve the appearance of your glasses and make them more comfortable to wear, but they also give you a wide range of frames to choose from.
When you choose a frame from our £69 range or above, you can have Extra Thin + Light lenses – usual price £40 – free. If you choose Super or Ultimate Thin + Light lenses we'll give you £40 discount off the prices of those.
All our glasses come with single vision lenses and a scratch-resistant treatment as standard. Our Extra Thin + Light lenses also have an anti-reflective UltraClear coating included too, so you'll benefit from fewer reflections on your lenses and they will be harder wearing.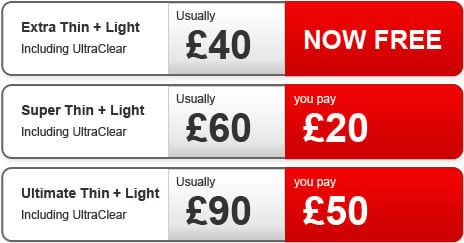 Terms and conditions
Cannot be used with other offers. Additional charge for other lenses and Extra Options. Subject to suitability. Already included in Fineform and rimless ranges.