Your residents' eye health in safe hands
Our home visit opticians are experienced in carrying out eye test in residential care homes and are sensitive to the specific needs of the people who live in them. We also want to make the delivery of eyecare to care home residents as simple as possible for staff too.
This is why we've designed the Personal Eyecare Package for use in busy care homes. It's a simple and easy to use tool that contains each resident's personal eyecare information, and we are confident it will prove to be indispensible.
How the Personal Eyecare Package works
The results from each eye test that we conduct are recorded in the Personal Eyecare Package document by our mobile opticians. This makes it easy for you and the resident's family to see the outcome of the test, and for your staff to understand the visual difficulties your resident is experiencing.
The package also includes a personalised illustrated guide that shows the kind of activities for which the resident will need glasses. It's designed to be a quick reference for your staff, helping ensure that your residents can enjoy life in your care home to the full.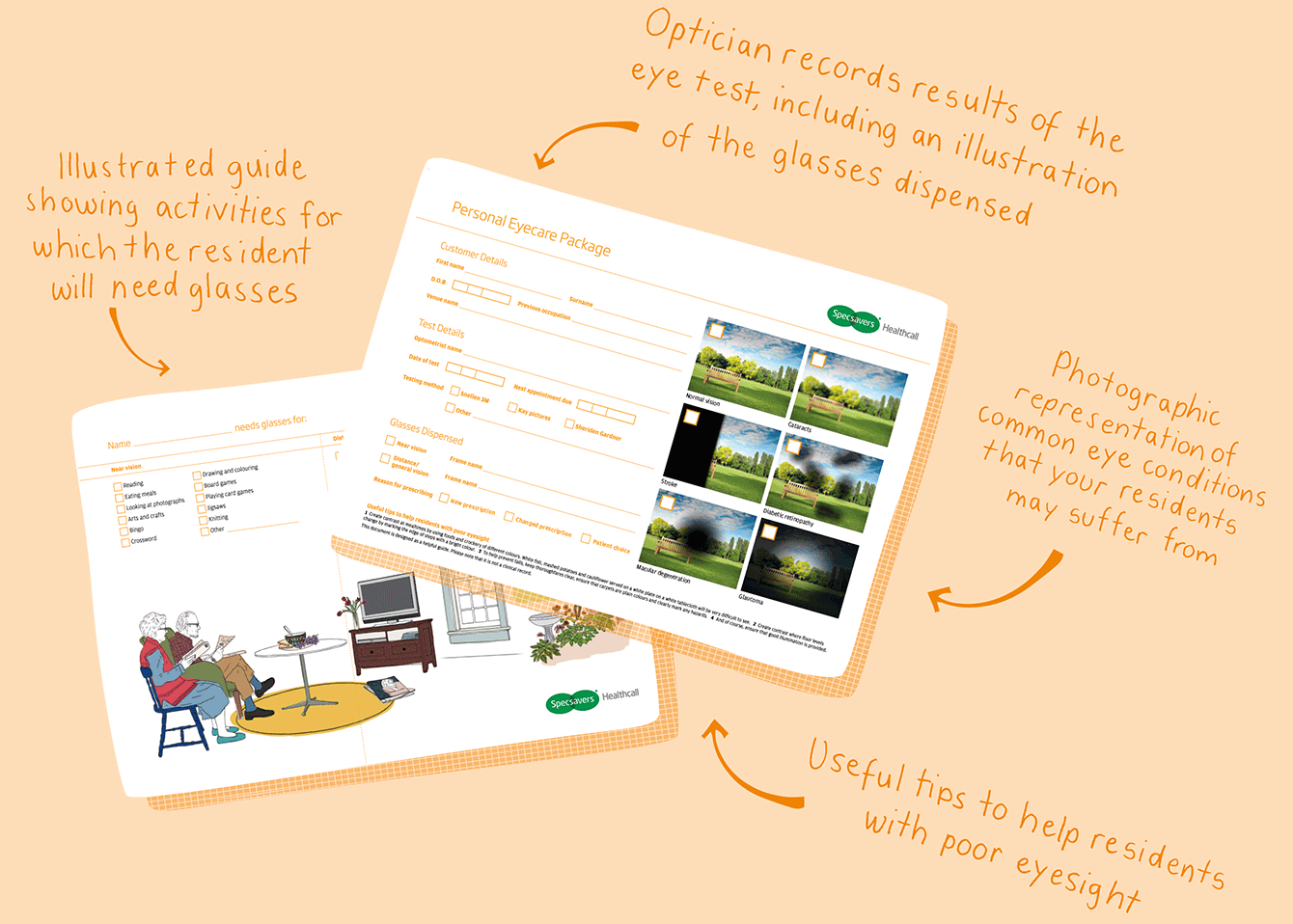 'I couldn't believe how easy Specsavers made this for me. Our residents love their optician, they see the same person each time so they really get to know each other, and there wasn't any paperwork for me. I'm so pleased I changed our opticians.'
Guide to eye care in care homes

Specsavers home visit service promise
We know running a care home can be challenging. As such we try to take away the day-to-day stresses for all the services we provide. You can rest assured your residents' eye health is being well cared for and to do this we promise the following:
On time, all the time
We will give you an appointment time so there is no waiting around
We will arrange appointments with our mobile opticians at times convenient for your care home – no clashes with meal times, for example
Easy to switch
We do all the paperwork for you, making it easy to switch from your current provider
We provide a complete end-to-end service
We will take care of all paperwork and where appropriate will leave a quotation for the home to pass onto the resident's family. The family can then deal with us directly, or via the home – whichever they prefer
A full and detailed record of every examination, procedure and result will be kept and made readily available, whether for a family member or a carer
Quick to help
We will respond to all requests for repair or adjustment within 24 hours (during trading hours)
We have more optical laboratories than any other care home service provider so your residents will receive their glasses in the quickest possible time with no unnecessary delays
Caring and friendly
We genuinely care about your residents, treating all as individuals and always putting their needs first
We always use plain language
We will always offer the best value solution for each individual's needs
We value your opinions and act upon them; we will send you a customer satisfaction survey at the end of every visit
We support the Care Workers Charity
We support the Great British Care Awards
Healthcall - Common