Swipe to view more
Tap to zoom in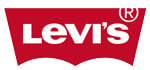 Effortlessly stylish, these deep square glasses by Levi's are simple yet effective in clean-cut hexetate plastic. Finished with flexible hinges, retro pin detailing on the front and signature Levi's logo in silver plaque on the temples.
Free 90 day returns, no-questions asked
Convenient home delivery on all orders
Free aftercare available in all our stores
Frame measurements
56 mm
18 mm
46.4 mm
145 mm
Lens options
These lenses are compatible with this frame
Single vision

Varifocals

Bifocals
You can also get extra lens treatments and options to protect or enhance your glasses; browse the options below.
Features
Features:

Flexi hinge