The opticians and audiologist from Telford's Specsavers store are proud to be sponsors of the AFC Telford United Community Coaches, who are continuing to run a training programme for local schools.
As one of the local organisations receiving benevolent support from the store this year, Specsavers staff has carried out eye examinations on all community coaches and the many local school children involved.
Vital to have good eye sight for playing football
'In football it's vital to have good vision as it helps with coordination, awareness and reaction times,' said Rizwaan Makda, store director.
'By providing eye examinations for those involved in this activity, we're able to help develop the skills of the next generation of local footballers.'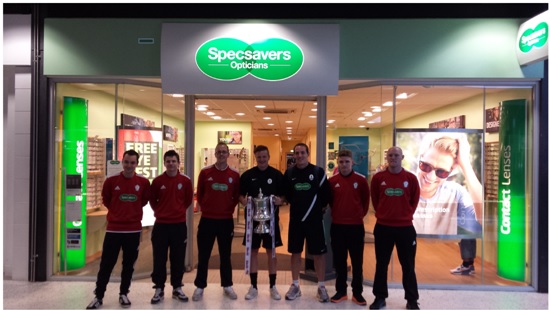 Giving back to the community
'We're keen to encourage the development of football in the local area, so sponsoring the community coaches is a fantastic way for us to give something back to the local community', explained Vinay Najran who is also store director at Telford.  
As part of the initiative, coaches visit more than 25 primary schools in Telford and Wrekin to build up pupils' football skills with the aim of growing their own football talent for the future.