A grateful customer who describes herself as 'lucky to be here today' has urged others to maintain regular eye tests after a routine examination revealed she had suffered two mini strokes. 
Cause for concern
Christine Durrant decided to go to the Stowmarket store after a thin see-through veil descended over her eye twice within ten days, impacting her vision and causing concern. 
'I felt absolutely fine and had no symptoms other than this see-through grey curtain descending over my eye, then disappearing a few seconds later,' said Christine.
Not long after conducting a routine eye test, store director Hillary Hayes spotted that all was not well and feared Christine may have been suffering from transient ischaemic attacks (TIAs) or 'mini strokes'. 
Hillary immediately referred her to Ipswich Hospital. Following a series of urgent tests, consultants confirmed she had suffered two TIAs, while the carotid artery in her neck, which carries blood to the brain, was 95% blocked.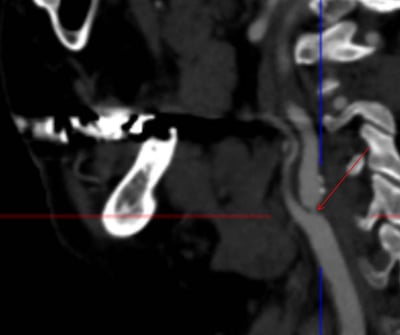 'Ticking time bomb' 
The next day, the 64-year-old was referred to Colchester hospital for surgery to widen the artery, and was able to return home in Claydon just one day later.
'I'm so pleased it happened twice because that's what prompted me to get checked out by my optician and is the reason I'm still here today.
'I am so grateful to Hillary and all of the hospital staff for their efficiency and professionalism. Although I've got a big scar (from hospital surgery), it's a small price to pay.
'I now feel really well and keep thinking to myself how lucky I am to have made it. I was walking around with a ticking time bomb in my neck and will never know how close I came to it going off.'
Vital tests
Hillary Hayes said: 'Christine's case is a prime example of why it's vital both glasses and non-glasses wearers know to get their eyes tested at least every two years. It's not just about maintaining your eye health, but your overall health - your eyes can reveal signs of a whole host of health conditions.'
To find out more about the symptoms of TIA's click here.