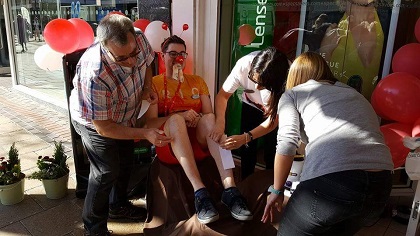 ​ 
Visitors to our store joined in with this year's Comic Relief theme 'give us a wave' by purchasing a pair of wacky waving-hand glasses for just £2 to support the charity. The team raised a fantastic £1300 on Red Nose Day.
Specs-tacular support
Not only did we sell the glasses but we also took part in fun and exciting activities for our customers. Optical assistant Mikey Corbett bravely received a full leg wax and we also held a cake sale.
Store director Martin Dean said: 'Our Comic Relief activity was a fun way for our customers to make a big difference collectively to this amazing cause. 
All Scunthorpe store information