Specsavers on the High Street has beaten off stiff competition after winning the silver award for the Most Enjoyable Chain and Most Enjoyable Service categories at the Pride of Heath awards.
About the Pride of Kings Heath awards
The awards ceremony, held on Tuesday 12 May, covered a number of categories ranging from Most Enjoyable Window to Most Enjoyable Night Out. The awards, which were voted for by nearly 700 locals, are a way for the public to show their appreciation for the businesses' hard work. All of the awards were won by small independent business apart from Most Enjoyable Chain.
Seeing Silver
The first silver award won by Specsavers was for the Most Enjoyable Chain. Described by voters as the award for great customer service and value for money, it saw Specsavers beat the like of Sainsburys and Costa, as well as other popular businesses. 
The second silver award won by Specsavers was the Most Enjoyable Service. This award is said to be for 'tip top customer service which leaves you wanting to come back for more'. Specsavers came joint second with a small family run gift shop, I Had One of Those.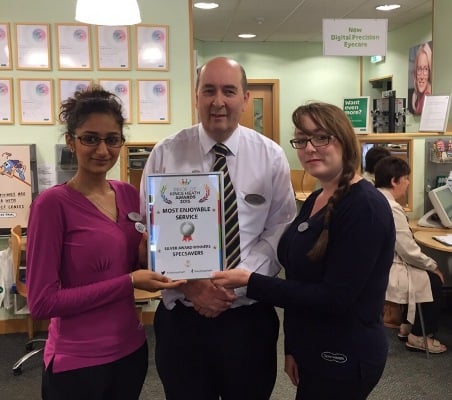 Peter Squire, retail director of Specsavers Kings Heath, said: 'We are over the moon to have won these awards. We pride ourselves on excellent customer service and we are pleased to have received these awards in recognition of our hard work.'