Steven Downton, dispensing supervisor, received a thank you card from Mandy Future after he gave up two lunch times to help her housebound mother, Faye Chambers, a customer of the store.
Home visit
Mrs Chambers had noticed that something wasn't quite right with her most recent prescription, but being housebound she was unable to go in store to have them altered. After hearing about this, Steven selflessly gave up his lunch time to visit her at her home and made a few alterations to Faye's glasses. 
A sign of gratitude 
Steven received a thank you card praising the fantastic service from the store.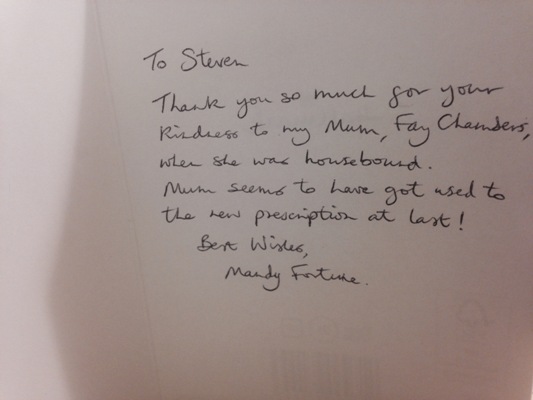 Teresa Hughes, store director, said: 'I am over the moon to see a member of our team going the extra mile for a customer. We pride ourselves on good customer service and it is brilliant to see this put into action. I would like to wish Mrs Chambers and her daughter Mrs Future all the best.'