Former Spice Girl and Heart Radio DJ Emma Bunton has teamed up with Specsavers in Belper and anti-bullying charity Kidscape to launch this year's search for the Spectacle Wearers of the Year. 
Spice up your life...by entering the competition
The overall winner of competition will be presented with £10,000 in cash and a dream stay at the Atlantis Paradise Island, Bahamas. The prize will be presented later this year at a star-studded event in central London. 
There are five age categories – 16-24, 25-34, 35-44, 45-59 and over 60s plus a Facebook favourite voted for by the public. A winner from each category will win a VIP makeover and will mingle with celebrities at an awards ceremony in London on 6 October.
Q&A with Facebook competition winner Kirsty Bilbie
Kirsty Bilbie, trainee optical advisor at Specsavers in Belper, was the Facebook People's Choice winner from the 2013 competition. After winning she joined the team in Specsavers Belper. She has advice for hopefuls out there.
Q) Why did you enter the competition? 
A) I entered the competition because I saw it on social media. I entered through the main web page (specsavers.com/loveyourglasses) I had just bought two pairs of glasses from Specsavers and really liked them, so I decided to upload my pictures. I had nothing to lose by entering, so figured why not? Initially; I had thought my entry had been unsuccessful, as I had not been contacted by the deadline date. However, I returned from a shopping trip with my friend to find that my picture had made its way onto the Specsavers Facebook page in the gallery for a "People's Choice" category, and went from there!
Q) How long have you worn glasses and why?
A) I noticed a problem when I was trying to read the board in the classroom, so I booked an eye test and discovered that I needed correction for astigmatism and myopia - short sightedness. I've worn glasses for around 10 years now.
Q) What is your general attitude to wearing glasses? 
A) I love wearing glasses. I own far too many frames (at least in the opinion of others) so they vary in style. Currently, I favour a soft cat eye style. Sarah Millican is my celebrity style icon - other than her looking great in her specs, my Grandmother seems to think we look alike!
Q) Have you ever received negative attention for wearing specs?
A) When I was younger, wearing glasses seemed to carry a certain stigma and wasn't taken as a good thing. However, when I found out that I needed glasses, I was really excited. I've never received any negative attention from anyone since I started to wear glasses and I have always been proud to wear them. I think that the general attitude towards glasses has now changed, and perceived as a positive thing - there are so many styles to choose from.
Q) What would be your advice be to other specs wearers?
A) My advice to other specs wearers would be to embrace being bespectacled! Be happy and confident wearing your glasses!
Q) Has winning the Facebook competition changed anything for you?
A) Winning the Facebook competition was quite overwhelming because members of the public decided that I should win and go to the ball! It was such an amazing experience and it made me very proud to be a part of it all. Alongside this, I had realised just how brilliant Specsavers as a company is as they managed to raise £35,000 on the night alone for Kidscape. Since then, I had wanted to become a part of the team, and I now am, so it has changed my life definitely.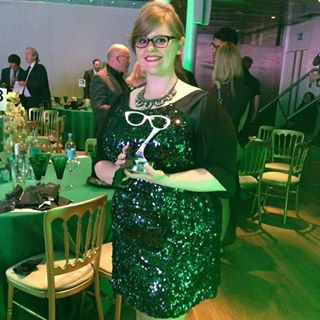 Charity begins at home
For every eligible entry Specsavers will donate £1 to Kidscape, which is celebrating 30 years of helping vulnerable children in 2015. The money raised will help to support them in providing training, support and advice for children, parents, schools and those who may be affected by cases of bullying and abuse in the UK.
If you wannabe a winner...
To be in with a chance of scooping the biggest accolade in the specs-wearing world, glasses wearers can enter the competition online at www.specsavers.co.uk/loveglasses, via Facebook www.facebook.com/specsavers or alternatively at your nearest Specsavers store.