About this offer
At Specsavers, when you pay for contact lenses by direct debit as an easycare customer, you can have a free pair of glasses from our £25 or £45 range. What's more, you can now have them with clear lenses or with a sunglass tint and UV filter, usually £24, at no extra charge.
Alternatively, you can choose a pair of glasses from a higher price range and pay a reduced price, starting at just £10, as follows: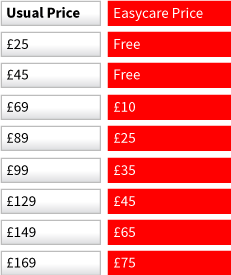 All glasses come with single vision lenses and a scratch-resistant treatment.
What's more, you'll also be entitled to an eye test, aftercare and free contact lens delivery, either to your local store or (if you sign up to our Lensmail free home delivery scheme) right to your door.
Try contact lenses free
Due to constant technical improvement, over 90% of glasses wearers are now able to wear contact lenses without any discomfort. So if you're worried about discomfort, or if you're a former contact lens wearer who didn't get on with your lenses, you might find you've been worrying about nothing. Why not try contact lenses for free to see if you've been missing out?
Finding your perfect lenses
We want to make buying contact lenses as easy as possible. But we also want to make sure you have the most suitable lens. So our guide to buying contact lenses is designed to help you choose the right contact lenses for you.
Lenses for everyone
Our easyvision range features lens types to suit your lifestyle and has been designed using the latest technology and materials, making them comfortable and easy to wear.
Terms and conditions
Cannot be used with other offers or exchanged in part or whole for cash. Initial 3-month payment required from new easycare direct debit customers. easycare customers are entitled to one pair of free or discounted glasses every two years. Free glasses include standard 1.5 single-vision lenses. Customers can chose tinted prescription lenses and UV filter free. Other lenses and Extra Options available at additional charge. Current prescription required. Alternatively, an eye test will be required at our standard charge. easycare benefits are redeemable only by named scheme member.