Kylie frames especially for you
There was more than once reason to celebrate Valentine's Day this year in Brixton, as the store launched their pitch perfect range of glasses designed exclusively for Specsavers by Kylie Minogue.
Kylie's Recommendations
The range, which she describes as a mix of modern classics, subtle bling and reinvented vintage, features 25 glasses and 5 prescription sunglasses, finished strikingly with her signature 'K' tag for a hint of understated glamour.
Below, Kylie picks out her favourites from the collection.

Kylie 5
'I love these gorgeous cat's eye frames. They're a combination of tortoiseshell and chartreuse - it's actually quite hard to pin down what colour they actually are as it changes depending on the light, but that's what makes them so versatile. I've received many compliments on this pair!'
Kylie Sun RX 4
'Whenever I wear these sunglasses, I picture myself driving around the south of France in a convertible car. I love the rose gold combined with the green leather and marbled effect along the sides. They're also really comfortable and make you feel like you're on holiday all the time.'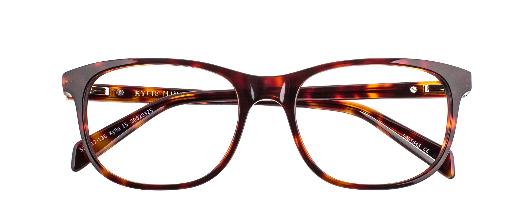 Kylie 15
'These are a very classic shape and slightly more masculine and edgy - but definitely something I would wear every day. There's a much more sexy vibe here too with the little bit of sparkle on the side. These frames are great for taking you from day to evening.'
A word from the Director
Brixton store director, Brian Simpson commented, 'This is one of the most exciting ranges we've had launched in the store since I've been here and we're sure that it's going to be a big success here in Brixton. We've already had very positive feedback about the range and it's created a healthy buzz around the store.'