Specsavers stores in Belper, Derby, Ripley and Normanton has pledged to support 38-year-old Penny Daniels from Chellaston who has been diagnosed with breast cancer. The four stores have donated £250 each which will help fund Penny's treatment in Germany, £1,000 in total.
Penny's story
First diagnosed with breast cancer in 2006, Penny went through various forms of treatment before receiving the all clear. Last year, after suffering pains in her abdomen and various other symptoms, Penny was told the cancer had returned and the cells had spread to her liver, so she started chemotherapy in England. The treatment was unsuccessful, but Penny was told she could receive treatment in Germany, but it would cost a minimum of €3,000 for each session.
The fundraiser was a success!
Moved by Penny's story, her friends including Amy Sims, Eleni Neocleous and Kelly McBride organised a fundraiser at the Lawns Hotel in Chellaston on Saturday 4 April where the money raised would be spent on further treatment or another option Penny chose in order to help her fight this. Amy posted the fundraiser details on Facebook which received an overwhelming response from local companies. Some 70 raffle prizes were donated and more than £5,000 was raised on the night which, added to Specsavers' donation and others, amounts to nearly £8,000 in total.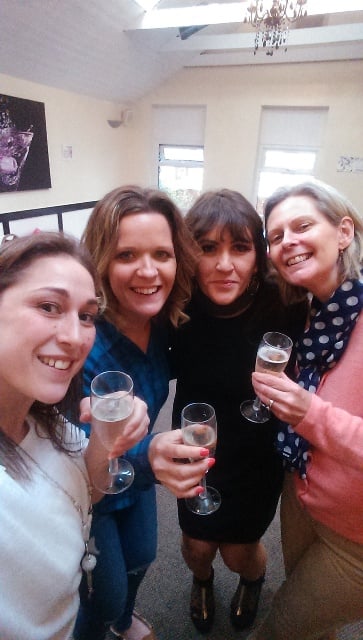 Penny is now on her fourth round of treatment and the cancer cells in her liver have shrunk by 10%. She is also receiving treatment in England to help her recovery.  
Andy McBride, store director at Specsavers Belper, said: 'Penny is a neighbour and close friend of ours. As soon as we heard that Amy was organising a fundraising evening we knew that we had to contribute. It's great to be able to help residents in the local community and we hope the donation goes a long way so Penny can receive the treatment she needs.'
To make a donation, or for more information, pop in your local store at 46-48 King Street, Belper, 22 Crown Walk, Intu Centre Derby, 22 Oxford Street, Ripley or 10-12 Stenson Road, Normanton. 
About breast cancer
Breast cancer is the most common type of cancer in the UK. In 2011, just under 50,000 women were diagnosed with invasive breast cancer. Most women who get it (8 out of 10) are over 50, but younger women, and in rare cases, men, can also get breast cancer. If it's treated early enough, breast cancer can be prevented from spreading to other parts of the body. For more information visit the NHS website 
To find your nearest opticians visit the Specsavers website