This year sees Nadine celebrate her 15th anniversary in the industry. She is currently in the studio with new music due to be released in the coming months.
Nadine also marks 2017 with an impassioned commitment as our new Spectacle Wearer of the Year ambassador. We stole the Derry-born beauty away for a quick chat during a fabulous photoshoot to promote the annual charity competition for Kidscape.
How long have you worn glasses?
About a year. I started getting headaches while I was driving, and both my mum and my partner Jason (former American footballer and father to their daughter Anaiya, three) said that I should have my eyes tested.
How have you adapted to wearing glasses?
I love it. I have always loved wearing sunglasses, so it feels very natural.
What is your usual specs-style?
Similar to my sunglasses style, I love a bolder frame in a classic colour. I have been experimenting with different shapes, veering away from my safer choices to try a cat's eye style – I was surprised by how great they looked on!
How do glasses fit in with your lifestyle?
Really easily. I like to have neutral tone glasses that can go with anything. Now when I leave the house, it's keys, phone, purse, lip balm and glasses!
How would you describe your style?
My style is classic but depending on what I am up to, I will add a touch of glamour for a night out. When I go through my wardrobe, I can see how much my style has changed and evolved over the years. I am now more aware of things that suit me rather than falling for the hottest new trend.
'These glasses are quite bold, which is my normal style, but the cats eye shape is new for me. I absolutely love them!'
Woolf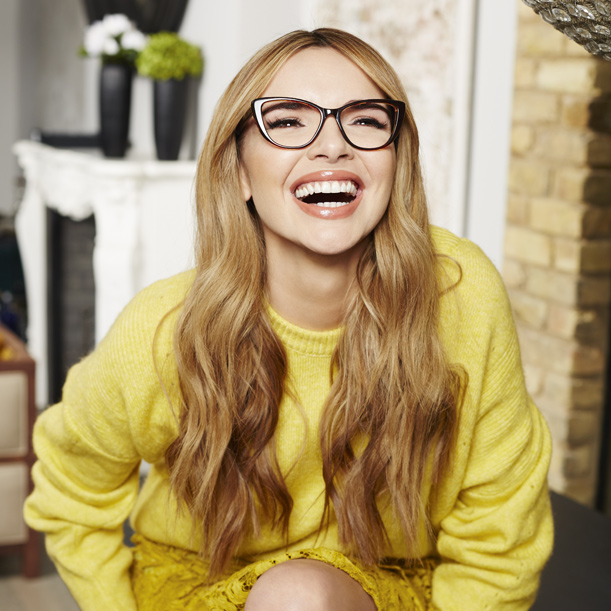 What are your top style tips?
Wear what you feel comfortable in and what brings out your personal style. That way you will feel more confident.
This competition is in aid of the anti-bullying charity Kidscape. How important is the charity element for you?
It is so important! Kidscape is a fantastic charity and the fact that they will receive £1 for each entry is just tremendous. Kidscape work tirelessly to help prevent bullying and I believe that all children should be able to grow up without fearing bullies or abuse.
How do you feel about being this year's Spectacle Wearer of the Year ambassador?
It's such an honour, I am so proud! I attended last year's event and received an award for Best Newcomer. It's a great feel-good campaign and the awards evening is a spec-tacular, fun event!
WIN £10,000!
Have you got specs appeal? Every year, Specsavers scours the UK to find people who love glasses and wear their specs with pride to enter our Spectacle Wearer of the Year competition.
Our winners will enjoy two nights in London at a top hotel and a complete makeover, including a new outfit to wear to our star-studded awards ceremony in London in October.
The person who is crowned overall Spectacle Wearer of the Year wins £10,000 and a wardrobe of eyewear to the value of £1,000, as well as the coveted Spectacle Wearer of the Year trophy.
Entry closes 02/07/2017
Images: Ellis Parrinder