Specsavers Earplugs Instructions for Use
Always read the instructions before use.
Product Description:
Specsavers re-usable earplugs effectively reduce levels of unwanted noise
Manufactured to standard EN 352-2: 2002
Size: 7-12mm
 
How to Use:
Specsavers re-usable earplugs should be fitted in accordance with the instructions and diagrams shown below. Always wash and dry your hands before fitting.
The earplugs should be fitted, adjusted and maintained in accordance with these instructions. Improper fitting will reduce effectiveness and could result in hearing loss or injury.
Earplugs should be worn at all times in noisy surroundings; it is critical to wear earplugs in any environment where the noise levels exceed 85dB.
 
Warnings:
Use the earplug whole. Do not cut or break apart.
Regularly inspect the earplugs for dirt or damage.
Keep out of reach of children under 3 years.
Suitable for adults and children over the age of 3. Adult supervision required for children
To clean the earplugs, use only warm soapy water and dry thoroughly before storing
This product may be adversely affected by certain chemical substances.
Store dry in the packaging provided when not in use.
 
Fitting Instructions:
Reach over head with free hand, pull the ear up and insert the earplug inside ear canal
To remove the earplug, gradually break the seal by slowly twisting the earplug. Rapid removal may damage the eardrum.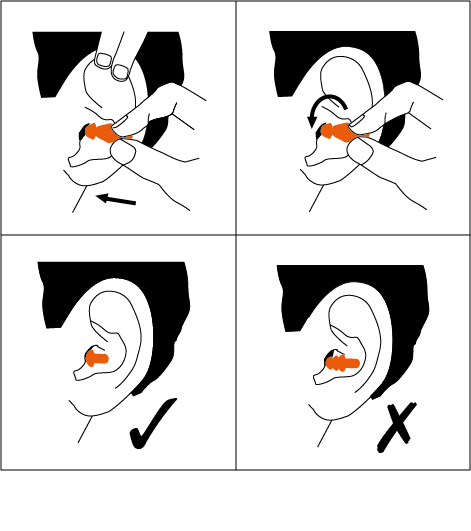 Nominal Diameter:
| | |
| --- | --- |
| Min. nominal diameter | 7 |
| Max. nominal diameter | 12 |
Sound Attenuation Data:
Frequency
[Hz]
Result
Requirement
[dB]
Sound attenuation [dB]
Standard deviation [dB]
APV [dB]
63
27.6
5.1
22.5
-
125
29.1
4.6
24.5
5
250
28.8
4.1
24.7
8
500
31.0
5.0
26.0
10
1000
28.9
4.0
24.9
12
2000
35.4
5.2
30.2
12
4000
37.6
8.6
29.0
12
8000
40.0
6.8
33.2
12
| | |
| --- | --- |
| H-value = | 29 dB |
| M-value = | 26 dB |
| L-value = | 26 dB |
Test Laboratory:
PZT GmbH
Germany
28 May 2013
Specsavers Hearcare Group Limited
Cirrus House
10 Experian Way
Nottingham
NG2 1EP