Swipe to view more
Tap to zoom in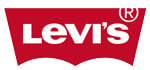 Match all your wardrobe favourites wearing these round glasses from Levi's. This sleek look is crafted from slim silver metal, with subtle etched brand detail on the temples and signature Levi's red tips in hexetate plastic.
Free 100-day returns, no quibble no fuss
Convenient home delivery on all orders
Free lifetime servicing at no extra cost
Large

frame measurements
51 mm
20 mm
45.9 mm
145 mm
Lens options
These lenses are compatible with this frame
Single vision

Varifocals

Bifocals
You can also get extra lens treatments and options to protect or enhance your glasses; browse the options below.