Swipe to view more
Tap to zoom in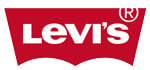 Step up your everyday style wearing these pilot glasses from Levi's. Crafted from super-slim metal in shiny gunmetal for a sleek look, finished with navy blue tips in hexetate plastic.
Free 90 day returns, no-questions asked
Convenient home delivery on all orders
Free aftercare available in all our stores
Frame measurements
55 mm
18 mm
44.1 mm
145 mm
Lens options
These lenses are compatible with this frame
Single vision

Varifocals

Bifocals
You can also get extra lens treatments and options to protect or enhance your glasses; browse the options below.