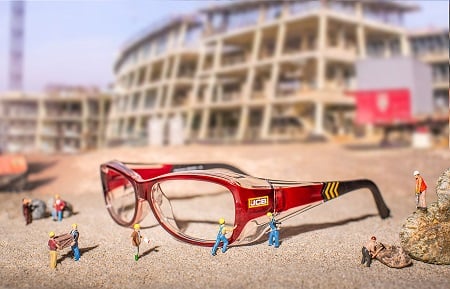 Research among more than one thousand employees and five hundred employers has revealed the importance of not only comfort, but also aesthetics, to the success of workplace safety eyewear.
Undertaken by YouGov on behalf of Specsavers Corporate Eyecare, the research revealed the importance of comfort when employees were asked whether they have ever removed their safety glasses when it was not safe to do so. Almost a quarter, 24% admitted to doing so, because their safety glasses were not comfortable. This figure may be even higher if employers' beliefs are correct. Asked what they thought employees would do if their safety glasses were uncomfortable but it was not safe to remove them, employers most commonly believed employees would remove them and carry on working anyway. This answer was given by 35% of employers.
The research also showed that almost three-quarters of employees (73%) said they would be more likely to wear safety glasses if they liked the appearance and design. This compares to a very similar 74% of employers who thought that pleasing aesthetics would make employees more likely to wear their safety eyewear.
Jim Lythgow, director of strategic alliances at Specsavers Corporate Eyecare, said: 'It may seem fairly obvious that it is important for safety eyewear to be comfortable but the actual figures of the number of employees who have removed safety eyewear, when it is not safe to do so, due to lack of comfort, may be pretty worrying for employers. Perhaps more surprising is the number of employers and employees who place importance upon the design and appearance of safety eyewear. Far from being purely a practical tool, it seems that safety eyewear must be visually appealing to encourage employees to actually wear it.'
Safety eyewear solutions
There are various considerations for employers looking to provide a successful safety eyewear solution:
Prescription:
Perhaps the biggest impact on comfort for the wearer is in offering prescription safety eyewear, rather than expecting wearers of glasses to use over-goggles. This out-dated option causes an unacceptable refraction of light, due to the two sets of lenses, and it is clearly less comfortable to be wearing two pairs of eyewear. Over-goggles are also not a good look!
Frames:
Comfort issues can be addressed by procuring safety glasses in light-weight materials, and considering the small details, like providing options with comfort temple-tips. Larger frame sizes are now available, like the new JCB All Terrain frames.
Lenses:
Lens options can be a big decider in comfort. If an employee wears varifocals or bifocals in everyday life, these will be the most comfortable options for lenses in their prescription safety glasses. Anti-reflection treatments, reaction lenses and ultra-clear treatments may be necessary for certain roles but they may also provide greater comfort in the right situation.
Design:
As the research has shown, offering a choice of style is very important. Wraparound-style glasses, like the JCB 5CX design, are becoming increasingly popular. Offering a wide range of options, with both male and female designs is often appreciated, with women's frames tending to be slimmer and in different colour ranges.
JCB range
Specsavers Corporate Eyecare has recently introduced a new range of 20 JCB safety frames offering a huge variety of options of fashionable yet robust designs, with a wide choice of lens materials. These tough prescription safety glasses offer employees the aesthetics they demand, with no compromise on safety. To view the JCB range visit www.specsavers.co.uk/corporate/safety-eyewear/jcb-glasses
For further information on safety eyewear visit www.specsavers.co.uk/corporate/safety-eyewear