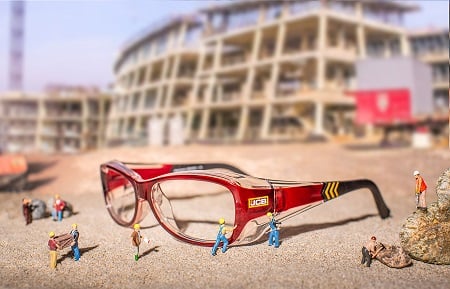 Specsavers Corporate Eyecare is delighted to announce that in three months since the launch of its new range of JCB prescription safety eyewear, 16,000 frames have already been dispensed.
Jim Lythgow, director of strategic alliances at Specsavers Corporate Eyecare, commented: 'We knew the new JCB range was great from both a safety and an aesthetic point of view but we did not expect them to be flying off the shelves at quite this rate.'
The teams in Specsavers stores across the UK have had to work hard to meet the demand for this new stylish range of prescription safety eyewear as each set of frames is professionally fitted for each individual wearer, to ensure a safe and comfortable fit.
"Comments from customers suggest that it is the modern styling of these safety frames that is making them so popular," explained Jim Lythgow. "Employers and safety managers recognise that while they require hard-working safety eyewear, finding something that is also aesthetically pleasing helps to ensure that the PPE is actually worn. Feedback has also suggested that the wide range of styles and individual fitting results in great comfort."
Specsavers Corporate Eyecare manufactures all of its frames and lenses, for everyday glasses and safety eyewear, in-house. This means that they have been able to keep up with the high demand and continue to ensure that quality is maintained.  
For more information on the popular new JCB range of prescription safety eyewear visit www.specsavers.co.uk/corporate/safety-eyewear/jcb-glasses